WILLOW WFF1760G Freestanding Fridge Freezer 55cm Width Adjustable Thermostat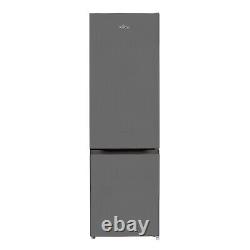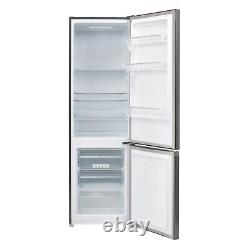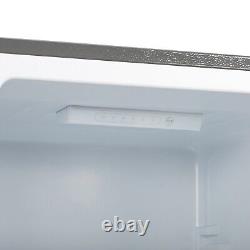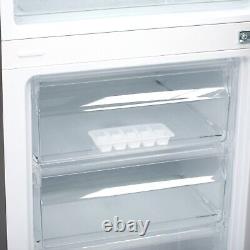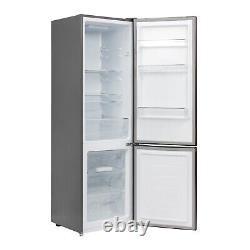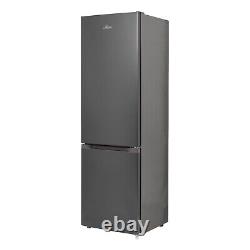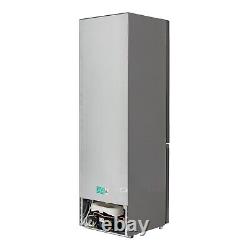 Reversible Door - The reversible door allows you to affix the door on either side, making it easier for the fridge freezer to fit anywhere in your kitchen. Crisper Salad Drawer - Keep all your fruit and vegetables fresher for longer, with our'Crisper Salad Drawer'.
Mark-Proof Finish - The exterior has a mark-proof finish allowing for easy cleaning. When the time comes, the fridge freezer will just need a quick wipe down with a micro fibre cloth.
Adjustable Thermostat - The adjustable thermostat is easy to use, which means that you can ensure that the fridge freezer is always set at the correct temperature. Quiet - This fridge freezer has a max noise level of just 39dBA so you can rest assured that it won't disturb anyone.
The WFF1760G has a sleek and simple design which won't look out of place in your kitchen. The reversible door can be affixed to either side depending on your preference. With an easy to use adjustable thermostat, there is no need to worry about the fridge freezer being at the wrong temperature and spoiling your food. This means that there will be less food waste. The WFF1760 has a 262L Capacity, with the fridge having a capacity of 187L and the freezer having a capacity of 75L.
This fridge freezer is the ideal size for a small family or a couple. The fridge contains 3 easy to clean glass shelves, a crisper drawer and 3 door trays. The freezer contains a tray and a drawer. Interior lighting makes it easy for you to see inside the whole fridge, even when it is full. This means that you won't have to keep the door open for any longer than necessary and the temperature inside the fridge will remain stabilised.
The WFF1760 is ideal for small kitchens with a width of less than 55cm and a height of 175cm. The max noise level of 39dBA makes it perfect for a small space. PRODUCT DIMENSIONS Packaged (W × D × H, cm): > 58cm × 59cm × 182cm Physical (W × D × H, cm): > 54cm × 55cm × 175cm. PRODUCT WEIGHT Gross Weight: > 54kg Net Weight: > 49kg. We will respond to you within 24 hours and do our best to help you out!
Please see below a list of places that we DO NOT deliver to. Scotland (Aberdeen, Dundee, Falkirk, Outer Herbrides, Inverness, Kirkwall, Paisley, Perth, Galashiels, Shetland Islands) Ireland, Northern Ireland, Channel Islands, Isle of man, Isle of Wight and the Isle of Skye and Ireland. All goods are sent out via our carefully selected couriers and carriers.
Goods are dispatched between Monday and Saturday 6:00am - 7:00pm. The vehicles used to deliver our items could be up to a 18.5 tonne lorry so please make sure this type of vehicle will fit down your access road. DO NOT SIGN if you are not happy with the item received. If you do sign as unchecked, unpacked, ok or acceptable, any damage notified afterwards cannot be claimed for.
In the unlikely event that an item is damaged during transit please. It is your responsibility to move any ornaments, furniture, etc. Also if you are concerned about any damage to your floor it is your responsibility to put down a protective layer. The driver is not liable for any damage to your property or to the item if helping to bring the item inside.
We reserve the right to change any prices that are advertised at any time. The price you pay is the price displayed on this website at the time we receive your order, except in the instance where an error has occurred with the price shown on the website. Please note prices may be changed on a daily basis and can go up or down. When placing an order you are purchasing the item or items at the prices shown at that time.
Registered in England and Wales.