Smeg Freezer Door Seal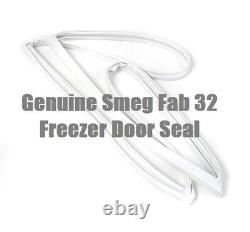 Comprehensive fitting and installation instructions provided. Genuine replacement DOOR SEAL - FREEZER for your Smeg Fridge and Freezer. Fits models CW330R-1, FAB32AZS6, FAB32PS4, FAB32P4, FAB32NES6, FAB32QP, FAB32NES3, FAB32AZ, FAB32AZ1, FAB32AZ3, FAB32AZ4, FAB32AZ6, FAB32AZ7, FAB32AZ-S, FAB32AZS1, FAB32AZS3, FAB32AZS4, FAB32AZS7, FAB32B, FAB32B1, FAB32BL, FAB32BL1, FAB32BL3, FAB32BL4, FAB32BL6, FAB32BL7, FAB32BL-S, FAB32BLS1, FAB32BLS3, FAB32BLS4, FAB32BLS6, FAB32BLS7, FAB32B-S, FAB32BS1, FAB32JBL, FAB32JNE, FAB32JP, FAB32JR, FAB32JRO, FAB32JV, FAB32NE3, FAB32NE4, FAB32NE6, FAB32NE7, FAB32NES4, FAB32NES7, FAB32O3, FAB32O6, FAB32O7, FAB32OS3, FAB32OS6, FAB32OS7, FAB32P, FAB32P1, FAB32P3, FAB32P6, FAB32P7, FAB32P-S, FAB32PS1, FAB32PS3, FAB32PS6, FAB32PS7, FAB32QAZ, FAB32QBL, FAB32QNE, FAB32QO, FAB32QR, FAB32QRO, FAB32QV, FAB32QVE, FAB32QX, FAB32R, FAB32R1, FAB32R3, FAB32R4, FAB32R6, FAB32R7, FAB32RO3, FAB32RO4, FAB32RO6, FAB32RO7, FAB32ROS3, FAB32ROS4, FAB32ROS6, FAB32ROS7, FAB32R-S, FAB32RS1, FAB32RS3, FAB32RS4, FAB32RS6, FAB32RS7, FAB32V.
Our friendly team will be ready and pleased to assist. Spare parts Spare parts for domestic household appliances. Specialists in sourcing genuine spares and accessories - kitchen appliance, leisure and commercial - covering all UK and continental brands.