Siemens Fridge & Freezer Door Handle Genuine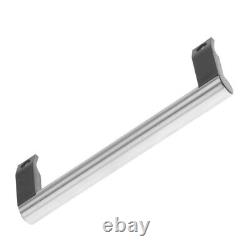 Siemens Fridge & Freezer Door Handle Genuine. Alternative Part Number(s): 00480137, 00491299.
The model number is normally found inside the fridge or freezer. You will likely need to remove the salad drawer or freezer drawer to find the model number plate.
Otherwise the model number is likely to be on the side or rear of the appliance. The model number will usually be printed or stamped on to a sticker or plate and will consist of numbers and letters. Please Note: This is a brand new Genuine Manufacturers Part.
We shall not be liable for incidental or consequential damages or expenses. This includes, but is not limited to, damage to property, lost income, profits, economic or commercial losses and third parties claims. We strongly recommend that all parts are fitted by a suitably qualified person, using the correct tools and test equipment, with the appliance disconnected from the mains supply.