LG Door-in-Door GSJV91PZAE WiFi Connected American Fridge Freezer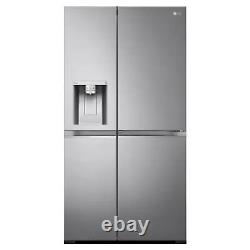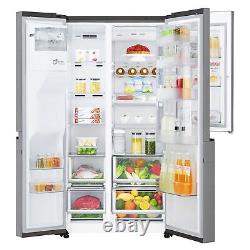 Please note this item is a brand new item. LG Door-in-Door GSJV91PZAE WiFi Connected American Fridge Freezer. LG GSJV91PZAE Water & Ice Dispenser ThinQ (WiFi) 635L American Fridge Freezer - Platinum Silver Reduce cold air loss with Door-in-Door. Ice and water dispenser with UVNano to eliminate 99.99% bacteria.
Keep food fresher for longer with LG's NatureFRESH cooling technology. Enjoy personalised operation and savings with Smart Learner via our LG ThinQ app. Dimension (mm) : 913(W) x 1790(H) x 735(D) A front view of the refrigerator installed in a kitchen. The top right door is open and there is a circle and a line leading to a larger circle that shows a magnified view of the button on the bottom left corner of the open door which has a concealed opening button. Door-in-Door Quick & Easy Access to Your Favorites Door-in-Door allows you to easily get your favorite foods with concealed opening button. UVnano Refresh Your Dispenser Nozzle Every Day Automatically reduce 99.99% of bacteria from the water nozzle with UV light. LinearCooling Seals in Farm Freshness Longer LinearCooling reduces temperature fluctuations, locking in the flavor of fresh for up to 7 days. FRESHBalancer Level Up the Freshness with Optimal Humidity Maintain optimal humidity to keep fruits and vegetables fresh for longer.
Modern Elegance In Every Detail The silver accents and metallic wall give the design a premium feel from the inside out. LG ThinQ Smart Control, Smart Life Simple Control with Voice Assistant Tell your refrigerator exactly what you need, when you need it. Say, "Turn on Express Freeze" and the AI speaker will listen and make sure your groceries are taken care of.
American Fridge Freezers are known for their generous size and typically these marvellous appliances can range in size as follows: Width: anywhere from 70cm to 100cm wide Depth: spanning from 60cm to 80cm deep Height: standing tall at approximately 160cm to 180cm For precise measurements, make sure to refer to the detailed product description and don't forget the space required to open the appliance doors fully, ideally at least 90 degrees. If available, these will be visible during the checkout process. Keep an eye on your order using the tracking information supplied. If you would like to return your item/s and are within 30-days of your order date, you can open up a return request via your orders page to follow the instructions provided. It must not be used, installed, or downloaded.
This is including but not limited to headphones/shavers/toothbrushes. (Please include your order number).