Hisense RB388N4BC10UK Fridge Freezer 2 Door Combi 60cm Stainless Steel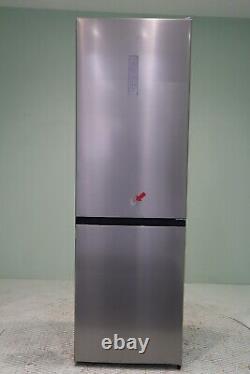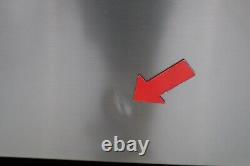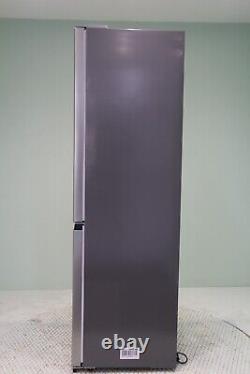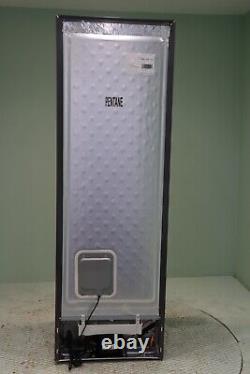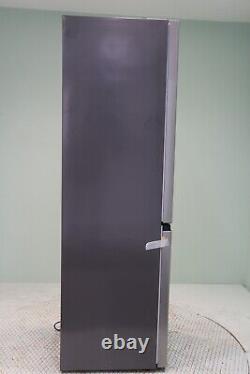 Hisense RB388N4BC10UK Fridge Freezer 2 Door Combi 60cm - Stainless Steel. Perfect for any kitchen, no matter your colour scheme. With a 302-litre capacity, this exceptional Hisense RB388N4BC10UK fridge freezer allows you to easily store up to 16 shopping bags of shopping. It features an external LED display, a handy chrome wine rack that lets you chill your bottles without taking up any shelf space, an efficient LED internal light, and Total No Frost for no frost anywhere - ever! This tall fridge freezer offers a great deal of storage, and this model comes in a stainless steel look finish.
More advanced than ordinary frost-free, the innovative Total No Frost Technology from Hisense intelligently circulates cold air evenly throughout both your fridge and freezer, to prevent ice crystals from forming, so there's no need to ever manually defrost. Effortlessly integrated into the external door of your fridge, the LED Display allows you to easily control the temperature of your fridge and freezer with a simple touch of a button. Take complete and accurate control over your fridge's features with a clear, easy to reach and simple to use LED touch control panel. A dedicated and stylish space for wine and soft drink bottles. This chrome wine rack frees up space in your fridge door and prevents bottles from rolling around on the shelves.
This is supplemented with a lovely chrome finish on the edges of the shelves, to make the interior of your fridge look stunning. This handy eco mode feature allows you to put the fridge freezer into an optimum temperature setting when it is not being used as much, such as when you go away on holiday. Total No Frost Cooling System. Welcome to Renew2U, your premier destination for refurbished tech and appliances.
At Renew2U, we have a passion for sustainability and a commitment to the circular economy. In the rare event that an issue arises, our dedicated customer service team will be readily available to assist you, ensuring a hassle-free experience. Come and join the mission so together we can reach our sustainability goals as one!
Each product is listed under 3 grades and a New (other) type, Note all items have been tested and refurbished by our certified fully trained engineers. Excellent - Refurbished - Grade A.
These products are in full working order and may have small dents or scrapes on the rear or side of the product. All damage is highlighted in the unique images when selecting a product to. Very Good - Refurbished - Grade B.
These products are fully working and have scrapes and dents on the front, side or rear of the product. Good - Refurbished - Grade C. These products are fully working and have severe dents and scrapes on the unit. At Renew 2 U, we're all about turning your shopping experience into a joyous journey of discovery. We don't just do quality?
We do quality with a sprinkle of fun and a dash of relaxation. Here's how we make sure your products are top-notch. Rigorous 10-Point Inspection - Our trusty professional engineers give each product not one, not two, but a dazzling 10-point check! They're like the superheroes of product inspection, ensuring everything's up to scratch. Packaging Fit for Royalty - We're not just sending products; we're sending excitement! Our packaging is like a cosy castle for your items, so they arrive in style, ready to rock. Picture Perfect : - No guessing games here! We show you exactly what you're getting. The product images are like a sneak peek at the cool new friend you're about to make. Repaired with Love : Our products aren't just looked over; they're repaired with an extra dose of love and care.
It's like having an exclusive treasure delivered to your doorstep. Thorough Quality Assurance - Quality is never compromised.
Our products go through a comprehensive quality assurance process, identifying and rectifying any imperfections before they reach your hands. Customer-Centric Approach : Feedback is invaluable. We actively seek input from our customers to continuously improve our products.
Your experiences shape our ongoing pursuit of excellence. Certified Confetti : Our products are the life of the party, and they come with a certified stamp of approval. They've got the credentials to back up their coolness. So there you have it, friends!
Renew 2 U isn't just about products; it's about experiences. We're here to bring you joy, relaxation, and a dash of that carefree feeling. Let's make shopping fun again! Picture this: your selected item gracefully arrives at your doorstep, and that's just the beginning.
We understand how time is of the essence, and this personalised touch ensures your convenience. But wait, there's more! No more struggling with unwieldy packages or rearranging furniture.
DPD: Parcel Prowess for Small to Medium-sized Marvels. For those delightful small to medium parcels that hold big surprises, we've partnered with DPD to whisk them right to your doorstep. Imagine knowing exactly when to expect your package, so you can carry on with your day without any guesswork. DPD's precise timing ensures that your doorstep becomes a portal to surprises, whether they're for you or your loved ones.
Contact Info: When purchasing, make sure to enter your contact information accurately. This little detail ensures that our partners can reach out to you without a hitch. Make sure you have checked the item as each one is unique to you! Always good to note the size will fit where you want it and how to get it there, along with the dents and scrapes we show on the images are just what you are looking for?
With Arrow XL and DPD, we're casting the spotlight on convenience, personalization, and precision. Let's make the journey as memorable as the destination! Renew 2 U - Terms and Conditions.
Welcome to Renew 2 U, your trusted online destination for refurbished appliances in the UK. Before you dive into the world of fantastic deals and sustainable choices, please take a moment to read through our Terms and Conditions. By accessing and using our store, you agree to abide by these terms.
We strive to provide accurate product information, including descriptions, images, and specifications. However, details might change without notice, and we cannot guarantee the availability of all products at all times.
Our appliances undergo a thorough refurbishment process, ensuring they meet quality standards. Minor cosmetic imperfections might be present, but these don't affect the functionality of the products. Your privacy is important to us. Refer to our Privacy Policy for details on data collection, usage, and protection. You agree not to use our website for unlawful or prohibited activities.
User-generated content, such as reviews and comments, should be respectful and accurate. We reserve the right to moderate and remove inappropriate content.
All content on our website, including images, text, logos, and trademarks, is protected by intellectual property laws. You may not use our content without our explicit consent. We strive to provide accurate and reliable information. However, we are not liable for any losses or damages resulting from the use of our website or products.
These terms are governed by the laws of the United Kingdom. Changes to Terms and Conditions. We may update these terms occasionally.
It's your responsibility to review them periodically. Thank you for choosing Renew 2 U! Our goal is to provide you with high-quality refurbished appliances and a seamless shopping experience. We want your shopping experience at Renew 2 U to be hassle-free and enjoyable. This number is essential for processing your return.
Step 3: Packing Your Return. Pack the item securely in its original packaging, including all accessories, manuals, and documentation.
Ensure that the RA number is clearly marked on the package. Depending on the type of product you are returning, we will arrange a suitable collection method. Parcel Size Products: For smaller items, we will organize a collection with DPD. They will provide you with instructions on how to prepare the item for collection.
Heavy and Bulky Items: For larger and heavier items, we will coordinate with Arrow XL for collection. Defective or damaged items will not incur this charge. Thank you for choosing Renew 2 U. Bosch KGN392WDFG Fridge Freezer 2 Door Combi D Rated Freestanding - White.
Hoover HOCE3T618FSK F 60cm Free Standing Fridge Freezer 60/40 Frost Free -Silver. Hisense RB388N4AC10UK Fridge Freezer 2 door Freestanding F Rated - Silver. Haier HTR5619FNMI Fridge Freezer 3 Door Total No Frost - Stainless Steel.
This listing is currently undergoing maintenance, we apologise for any inconvenience caused.