Bosch Series 6 605 Litre Freestanding Four Door Fridge Freezer Black KFN96AXEA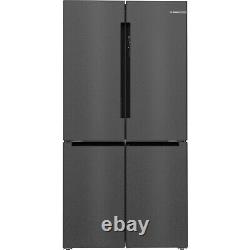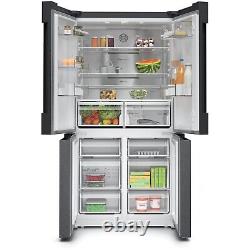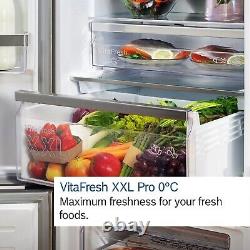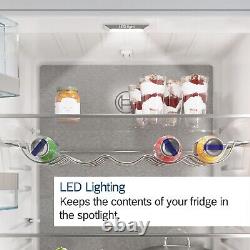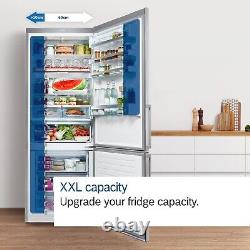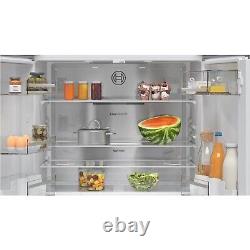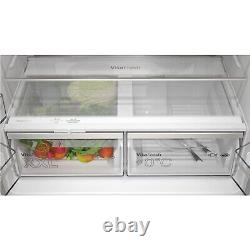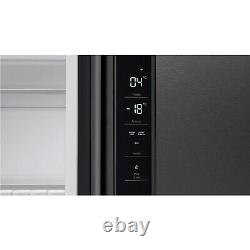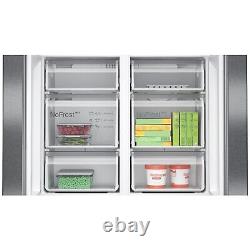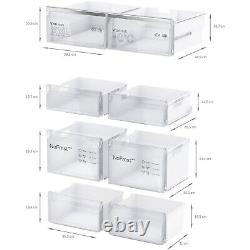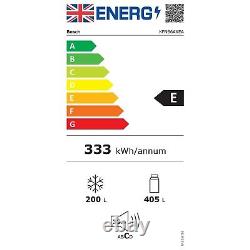 Bosch Series 6 605 Litre Freestanding Four Door Fridge Freezer - Black KFN96AXEA. Shop all CCTV & Cameras. Shop all Gadgets & Drones. Series 6, French door bottom freezer, multi door, 183 x 90.5 cm, Inox-easyclean.
Connectivity: Remotely monitor and control your fridge from your smartphone or tablet. Metal backwall with MultiAirflow: evenly circulates cool, fresh air to maintain consistent temperatures. NoFrost: you'll never have to defrost your fridge-freezer again. VitaFresh XXL Pro near 0°C: climate-controlled compartments lock in freshness and nutrients for longer. XXL capacity: extra space for your food when you need it. MultiAirflow system - improves circulation of air around the fridge. LED lights bring a completely new lighting concept to fridges. 605 Litres of usable space, enough for 32 bags of groceries. Connectivity Simply download the Home Connect app and pair with your fridge The Home Connect app allows you to remotely monitor and control your Bosch refrigerator from your smartphone or tablet. Control the temperature, adjust lighting, run diagnostics-wherever you are, for ultimate convenience.
The Bosch customer service team can use remote diagnostics to connect to your fridge in case you encounter a problem. Remotely adjust and monitor the temperature of your fridge and freezer-even set it to vacation mode when you're away. Connected refrigerators from Bosch are designed to give you peace of mind, customization, and simplification.
Metal backwall The fridge that keeps a constant temperature - everywhere Uneven cooling in your fridge can greatly affect the flavour and longevity of your food. Thanks to the metal backwall with MultiAirflow, humidity and temperature is evenly distributed throughout the cooling area, from the door bins to the back corners, which helps your food retain its integrity for longer. NoFrost Never defrost your fridge-freezer again. Forget the hassle of defrosting. NoFrost maintains a steady flow of dry air throughout your fridge-freezer to prevent ice from building up. It's the end of the ice age, and the hassle of defrosting is gone for good. VitaFresh XXL Pro near 0°C Maximum freshness for your fresh foods VitaFresh XXL Pro 0°C offers the perfect storage environment for all your fresh food thanks to climate control and 0°C technology. Fish and meat stay fresh for longer at a temperature near 0°C. And your fruit and vegetables benefit from an optimised climate.
XXL capacity Upgrade your fridge capacity When you need a spacious fridge that doesn't take up too much space in your kitchen, our XXL capacity fridges deliver. Just slightly wider than a standard model, they allow you to fit whole baking trays, big watermelons and other bulky items inside. The larger interior makes it easier to see and check your food and gives you excellent storage flexibility. Big Box More freezer space for your favourites An extra-deep frozen food drawer for practical stacking of frozen foods container or large frozen items like gateaux or pizzas. No matter whether you have to cater for a child's birthday or freeze a wedding cake - in the Big Box you will find enough space for large frozen goods.
LED Lighting Keeps the contents of your fridge in the spotlight LED lights bring a completely new lighting concept to fridges, guaranteeing even, glare-free interior illumination. LED lights use less electricity than conventional fridge lights and last an (appliance) lifetime.
HolidayMode Save energy whilst you are away When the Holiday Mode function is activated, the temperature in the fridge section is approx. +14°C and in the freezer approx. 18°C, protecting frozen foods and preventing energy wastage in the fridge.
Super Cooling function The fridge that knows how to keep its cool Activate the Super Cooling function before you go shopping to lower the temperature in your fridge for a short period, so your fresh shopping is kept at the right temperature. The temperature is lowered by pushing a button (2°C at the lowest). To prevent unnecessary power consumption, the function automatically switches back after approximately 6 hours. Intelligent Inverter Technology Intelligent Inverter Technology We have a name for the intelligent interaction of temperature sensors, electronics and compressor: Intelligent inverter interaction technology. Temperature sensors continually monitor the temperature inside and outside the fridge.
Changes are immediately relayed to the electronic system to ensure that the compressor adjusts its performance according to the current situation. Alarm Alarm The alarm system signals a sound or light when the door is not closed properly.
FreshSense FreshSense: perfect storage climate Thanks to the optimum storage conditions, your food preserves an ideal consistency; ice cream, for instance, is neither too soft nor too hard. A constant temperature in the fridge interior is a decisive factor in achieving more freshness and flavour. FreshSense sensors constantly monitor and control the ambient, fridge and freezer temperature. A constant temperature inside the fridge, independent of the outer temperature, is the result. SuperFreezing Protects frozen food from defrosting Adding new food to the freezer raises the internal temperature, which can result in defrosting and a loss of flavour. The SuperFreezing function ensures that new food is frozen quickly and thereby prevents the other content inside the freezer from defrosting. Appliances with an automatic freezing function return to normal operation once the required temperature is reached, in order not to waste energy. As a result, frozen food keeps its flavour, even when new food is being added. Multi Airflow Multi Airflow System: even air distribution for longer freshness The fan-assisted MultiAirflow System causes gentle, even currents of cold air to emerge at all levels of the chilling and freezing area.
Temperature fluctuations are minimised and cooling times reduced - which helps your foods retain their flavour for longer. Then, keep an eye on your inbox for our dispatch note. Just so you know, if you're ordering from a rural or hard to reach location like Northern Ireland, the Republic of Ireland or the Scottish Highlands or islands, your order may take up to 14 days to arrive. This does not include viruses, malware or software defects caused by installation errors. We work with trusted couriers to ensure all orders arrive on time and in perfect condition.
But, in the rare event that something gets lost or damaged, we'll do everything we can to put this right. Please share as much information as possible to help us swiftly resolve your issue. Read what our buyers say about us.. We stock all the top brands.
We built our business around a rather Yorkshire principle; instead of charging an arm and a leg for the same products as our competitors, let's cost less, sell more and deliver greater value. And it must have worked because we're now one of the UK's largest online retailers. Today, we offer a wide range of products from our sister brands at Appliances Direct, Laptops Direct, Drones Direct, Furniture123, Better Bathrooms and Outdoor Living Hot Tubs. Browse high-quality home appliances like fridges, freezers, air con and cookers. Must-have tech including laptops, TVs, drones and electric scooters.
Plus, home, office and garden furniture like beds, desks, bathroom ceramics and hot tubs. Come on, let's find something amazing.