Alpicool CR50X 12V 24V LG Compressor 50L Fridge Freezer, Campervan, Motorhome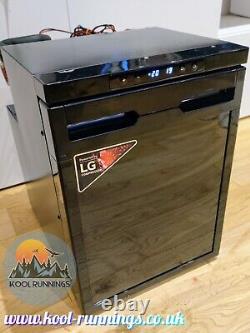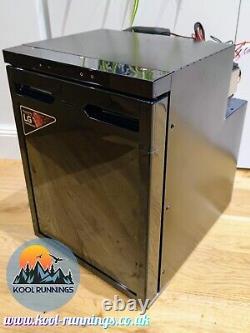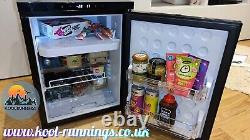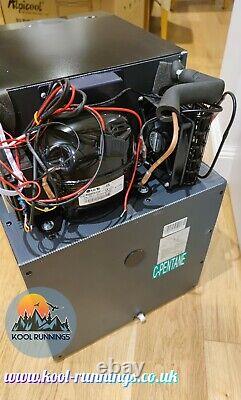 Featuring an LG compressor, brushless fan, separate freezer compartment and it's stunning gloss black finish the CR50X is a fridge not to be missed. It's compact size can turn any unused space into a super efficient, 50L fridge/freezer for your campervan, motorhome, boat, caravan, coffee van, horse trailer - the possibilities are endless. Drawing very little amperage as low as 1AH it's ideal for off-grid and self build installs, offering the ability to run effectively from solar power. We have one in our own van and it runs happily from a small solar panel, with plenty in reserve.
To protect the battery from discharging too much should it run low, the CR50X can cut off at 3 differing voltages. There's also the option to connect to Bluetooth and control the unit using the Alpicool App, which displays temperatures, voltage etc. We use refrigerant gas which has little to no carbon emissions at end of life. Dimensions (mm): 525H x 380W x 478D.
These dimensions are verified by us. Temperature range: -20°C to +20°C. LG compressor and brushless DC fan offers superior cooling and extremely quiet running. Three stage battery protection system (3 presets), preventing vehicle battery run down. Set the temperature and monitor the fridge using the Alpicool App.
Shockproof and durable design and operates up to 45°. Low C02 emission refrigerant gas. Removable door panel that can be wrapped or painted to match any design.
The unit comes with just 2 wires - positive (red) and negative (black), with 1.9M cable length. Also includes pre-wired inline blade fuse. Hook it up to 12V or 24V and off you go!
We always recommend using a good quality 4mm2, tri-rated multistrand cable for runs up to 3M away from the battery and 6mm2 for cable runs over 3M. This helps to minimise voltage drop and ensures maximum efficiency - we've had a few customers experience faults and unsatisfactory cooling which was subsequently remedied by using correct cabling. It's equally as important that the connectors used are adequate and properly made - if using crimps (bullet/spade connectors), the correct crimping tool must be used. If in doubt, please consult an auto electrician or suitably qualified professional.
It's also very important to let the back of the fridge breathe - 50mm around all sides and back is recommended. Any less than that and the heat from the compressor can heat up the air space, hindering performance, particularly in hot climates.
Note: There is no need to vent this fridge to outside or cut holes in the exterior/floor of the vehicle. Kool Runnings always recommend using a qualified electrician to either install, or sign off any self installations of any of our products. We've been using our CR50X for a couple of years now and it's the perfect size for our family of 3 in our van, and most importantly the freezer stores a good few ice creams, whilst ticking over quietly from a 110A AGM battery and 160w solar panel.
The gloss black finish really sets the rest of the van off too! These are not Alpicool products, nor will there be any support when things go wrong.
Check our website for more info. While every precaution is taken to ensure the fridge remains upright in transit, we cannot be sure this is adhered to when the item leaves our hands.